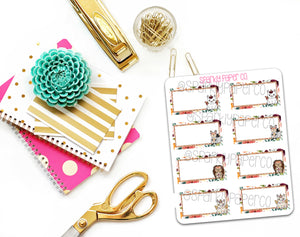 Sparkly Paper Co.
Autumn Rose Critter Half Boxes
If you didn't get a chance to snag the beautiful Autumn Rose TN, from Foxy Fix® be sure to grab it as they have it available for presale! http://foxyfix.com/
Don't forget to check out Amanda Roberts shop The Fox and Pip for her release as well! She made some AMAZING items for the collab!! You will be able to find them on her etsy site tomorrow as well (join her group to find out the time) https://www.etsy.com/shop/thefoxandpip
Maria Fernanda DeKnegt from Two Lil' Bees will have the matching kit (not sure when she is releasing as she is in Florida and is preparing for hurricane irma. Please send her lots of prayers) Join her fb group to find out when she is releasing!
If you didn't already get it, Annie Wen Gebhard from AnniePlansPrintables already released her collab insert which you can find on her website www.annieplansprintables.com or on her etsy https://www.etsy.com/shop/annieplansprintables

We are sooo grateful to foxy fix for allowing us to collab with them! This is def something i never could've dreamed of!
---
More from this collection