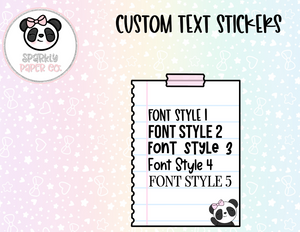 Sparkly Paper Co.
CUSTOM Text Stickers
Didn't see a word you need in our common text stickers? Here's where you can get exactly what you want!
Stickers will be no longer than 1in wide (it may be smaller depending on your word) Any word that is two words may be stacked depending on the amount of letters. 
Only one custom word per sheet will be allowed ( no mixed sheets)
Please don't forget to select the paper type and font style in the drop down below. 
All sticker sheets will be our standard sticker sheet size. We will try our best to fit as many stickers on a sheet as we can.
---
More from this collection